CL3-PK/A
Professional 5 Speed Lathe and Stand Package
(

12103

)
The CL series has long been at the heart of the Record Power range of woodturning lathes, having found their way into countless workshops of both professional and hobbyist woodturners for many decades. This new updated range builds on all the great design features that have made the previous machines so consistently popular, with a number of improvements and developments to give even greater performance and value for money.
The bed bars of both machines have increased diameters for improved stability and their length has been revised to be a more compact and practical 24" in length. Optional bed bar extensions are available for those who turn very large items between centres. The spindle thread of the lathes has been increased in size to the popular M33 thread, bringing it in line with our heaviest duty lathes to give unsurpassed solidity and increasing compatibility across the range.
The headstock features easy maintenance sealed-for-life bearings, 2 at the front and 1 at the rear of the spindle, providing excellent support for the movement of the spindle. The spindle itself is hollow, allowing a knockout bar to be used to aid removal of headstock accessories.
The tailstock, which now features a 2 Morse taper barrel, also has an upgraded hand wheel to the rear, making movement of the barrel much easier. The tool rest has an improved one-piece cast design with a larger 1" diameter stem, giving a more sturdy base to turn from with increased support for the chisel.
The CL3 remains a 5 speed lathe, offering ample options for all woodturning tasks, and the CL4 features the famous VSLK variable speed unit, offering incredible versatility with its responsive variable speed change.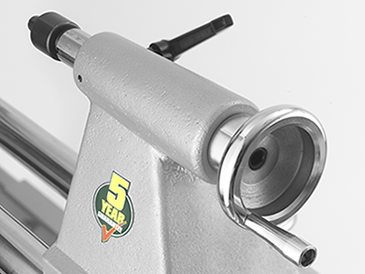 New Tailstock Design
New tailstock design features ergonomic hand wheel and 2 Morse taper.
Extendable Bed Bars
Optional bed bar extensions, now with larger 40 mm diameter.
Headstock Features M33 Thread
Headstock features M33 thread and sealed for life bearing.
Knockout Bar
Hollow spindle allows use of knockout bar.
Tool Rest
One piece cast tool rest with 1" diameter stem.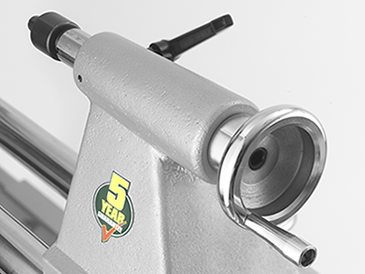 New Tailstock Design

Extendable Bed Bars

Headstock Features M33 Thread

Knockout Bar

Tool Rest
Swivel Headstock:

Outboard Turning:

Cast Iron Bed:

Solid Steel Bed Bars:

Integral Legstand:

Extendable Bed Length:

Bench Mountable:

Spindle Lock:

Electronic Variable Speed:

Bowl Rest:

Legstand:

Variable Speed Upgrade:

Bed Extension:

Maximum bowl diameter: 762 mm
Maximum between centres: 610 mm
Maximum swing over bed: 305 mm
Spindle speeds: 475, 670, 985, 1410 & 2070 rpm
Size: H386 x W1025 x D381 mm
CL3
A great piece of kit sturdy only thing I can fault is the grub screws came loose on the pulley spindle in the first few hours of use but once tightened as good as new. The only th...
Read Full Review
Andy C
CL Series Lathe Manual 3.4
PDF reader required
Swivel Headstock

Outboard Turning

Cast Iron Bed

Solid Steel Bed Bars

Integral Legstand

Extendable Bed Length

Bench Mountable

Spindle Lock

Electronic Variable Speed

Bowl Rest

Legstand

Variable Speed Upgrade

Bed Extension

Maximum bowl diameter
762 mm
Maximum between centres
610 mm
Maximum swing over bed
305 mm
Spindle speeds
475, 670, 985, 1410 & 2070 rpm
Size
H386 x W1025 x D381 mm