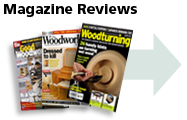 "
This is excellent value for a well made and accurate product.
"
The Woodworker
Made from high quality steel to exacting standards, this four jaw geared scroll chuck is the ideal choice for beginners or more experienced turners who regularly work with small objects. Supplied complete with a set of standard dovetail jaws and a handy woodscrew chuck, this compact chuck offers unrivalled value for money.
The RP2000 is extremely compact, being only 62 mm in diameter, facilitating easy access to workpieces, allowing fine and delicate work to be carried out more easily than with a larger chuck, which can sometimes make access to small projects difficult. However, the size of this chuck does not hinder its versatility as it is capable of holding larger work and can be used to turn bowls up to 12 inches in diameter, making it a great all-rounder. Due to its size and weight it is ideal for use on smaller lathes as it places minimal stress on the bearings.
Woodscrew Included
The woodscrew provides a quick and secure way to mount bowls.
Ideal for Smaller Work
Due to its compactness, the RP2000 is ideal for turning smaller items, giving greater acces and reducing load on the spindle.
Incredibly Versatile
A huge range of work can be undertaken with the help of the RP2000 chuck, limited only by your imagination.

Woodscrew Included

Ideal for Smaller Work

Incredibly Versatile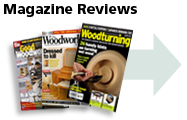 "
This is excellent value for a well made and accurate product.
"
The Woodworker
Cracking little chuck
I have used this chuck for quite a while, by changing the jaws makes this little chuck very versatile I have turned bowls, spindles, pens, wheels, Christmas decorations and many ot...
Read Full Review
Keoman
Great compact chuck
I bought this originally for my Coronet Elf before the bearing went. I now have a RP SC2 and fits that as well. It has held up to several projects including off center and natural...
Read Full Review
RP2000
I have been using my chuck now for about 4 months and find it great !! One problem though...It does tend to hold dust in the gears and I haven't been able to remove it very succes...
Read Full Review
Adrian72