RSBG6 and RSBG8 product safety notice
It has come to our attention that the initial batches of our new grinders have a non-conforming work rest, which does not allow for correct or compliant adjustment at all angles.
The machines affected were the following models;
71050 (UK) – RSBG/6 Bench Grinder – First available on 11 September 2018
71051 (EU) – RSBG/6 Bench Grinder – First available on 11 September 2018
71550 (UK) – RSBG/8 Bench Grinder – First available on 11 September 2018
71551 (EU) – RSBG/8 Bench Grinder – First available on 11 September 2018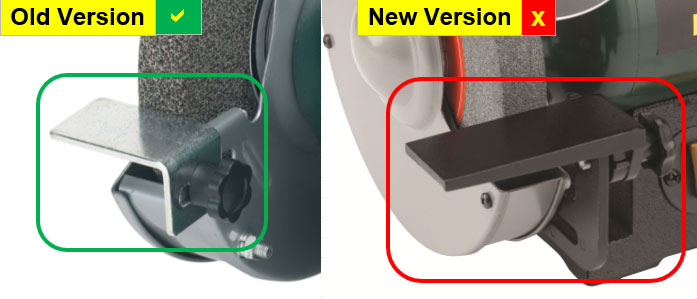 If the work rest of your bench grinder looks like the "Old Version", your machine IS NOT affected!
If it looks like the "New Version", your machine IS affected!
The European Safety Standard requires;
"The work rest shall be adjustable to within 2 mm of the surface of the wheel…"
We have found that the bracket on our first batches of machines allows for this at 90o, but not when the work rest is tilted at certain angles.
The reason this is a safety issue and the standard recommend 2mm maximum is to reduce any risk of a workpiece being snatched downwards by the stone, trapped between the work rest and the stone and potentially causing the stone to fracture at speed, which could cause serious injury.
We are currently making new brackets to resolve this issue, which will require the simple addition of a spacer, washer and the new wing screw with correct dimensions. We expect the first batches of replacement parts to be available from 12 November 2018.
If you like us to send you the replacement pack with easy to follow fitting instructions, please email your name, full address and phone number to: benchgrinder@recordpower.co.uk
Should you wish to discuss this matter or need technical assistance, please ring:
+441246 571020 - Option 2
We have a team ready to deal with your messages and questions.
We can assure you we are doing everything we can to make the necessary parts and offer a solution as quickly as possible but felt it was important to raise our concerns over the possible safety issue immediately.
If you think you are affected or if you are still unsure we currently have the following options;
1) Replacement Parts
We are currently having new parts manufactured to enable an easy fitting solution.
The replacement pack contains:
5mm spacer
3mm washer
16mm wing screw
Replacement parts will be sent with full easy to follow fitting instructions.
This is the quickest option, if you are prepared to fit the parts yourself. As soon as the parts arrive around 12 November 2018 we can send them out with easy to follow instructions.
If you choose this option and have any problems fitting, then the next option will still remain open to you
2) Collection and Repair by Record Power (see above for details)
If neither of these options are suitable we will of course be happy to arrange collection of your machine for return to our workshop here where we will make the exchange and return it to you. We will turn around any machines as quickly as we possibly can and in order of return.
We apologise once again for any inconvenience this causes.
Record Power Ltd.