How to Cut a Large Through Dovetail Joint
A Single Large Through Dovetail in European Olive Ash and European Walnut.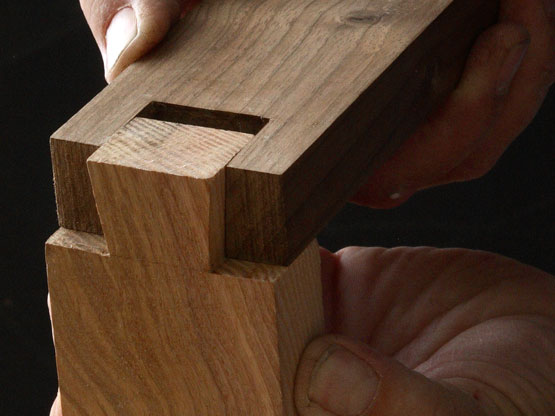 Mark the Shoulder Line
Use a skew chisel to knife-mark a dovetail shoulder line. Lay the flat underside of the chisel on the socket wood, grip the tail wood safely above the chisel while you slide its end across the bench. The skew chisel point will mark the tail shoulder line at just the right height. Swap the woods around to mark the socket shoulder line.
Fig 1
Using the Skew Chisel
Use the skew chisel to pare the dovetail side down to the shoulder. The skewed edge cuts with a clean slicing action.
Fig 2
Remove the Bulk with a Saw
Using a coping saw efficiently removes a large chunk of waste from a dovetail socket but it leaves a rough edge that needs straightening with a chisel.
Fig 3
Using the Bevel Edged Chisel
Chop away waste from the rough edge with the widest bevel edge chisel that fits. Hold the chisel sideways on so you can watch that its back remains vertical.
Fig 4
Cut Back Carefully
Make the first chop about a millimetre ahead of the shoulder line, then pare back to the line.
Fig 5
The Completed Joint
Test fit the joint, paring with a skew chisel to remove any excessive tightness.
Fig 6
Tools Used for this Project
CH/S-12R Right Hand Skew Chisel 12 mm
CH/B-26 Bevel Edge Chisel 26 mm