CGV286-3-WALL RRP £599.98
SAVE
£99.99
ONLY
£499.99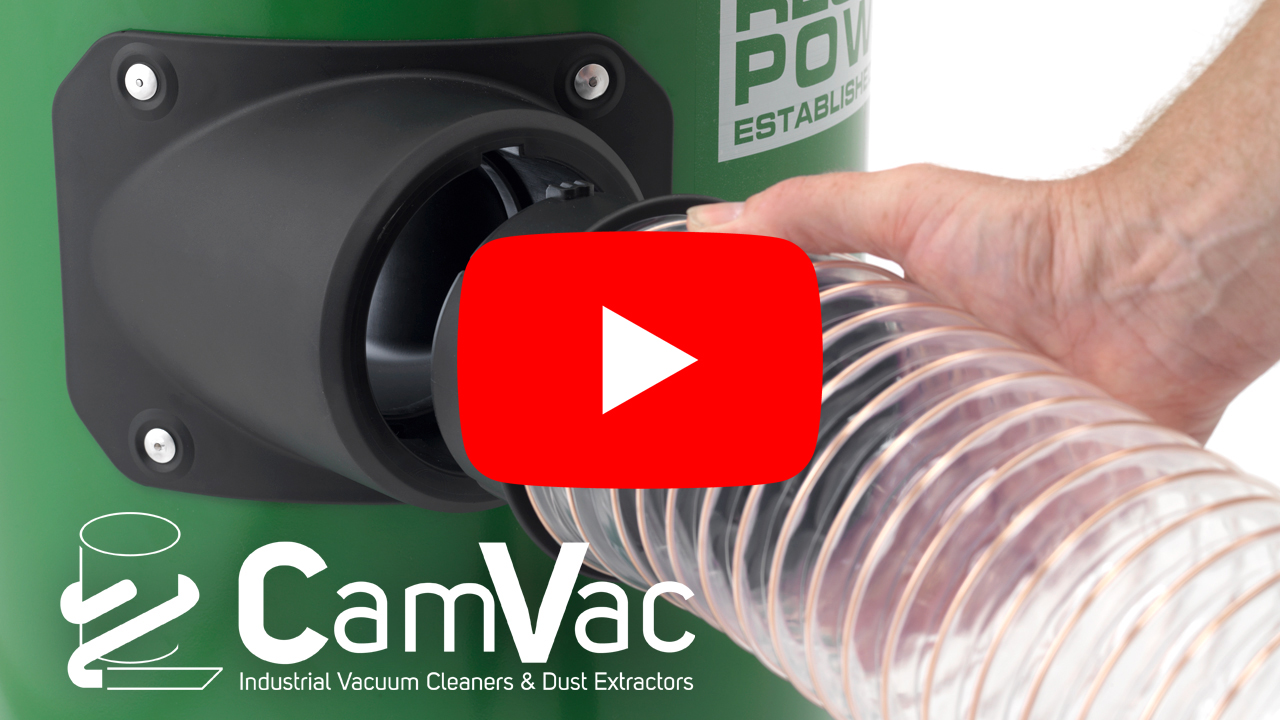 CGV286-3-WALL
Compact Wall-Mounted Extractor and Floor Stand
(

104730

)
Includes:
104730 Compact Wall-Mounted Extractor
104950 Floor Stand for Wall-Mount CamVac Extractor
105100 Bayonet Fitting for CamVac Machines
CVG170-102 Clear Waste Bag for 286 Wall-Mount Extractor
DX100X 100 mm Easy Fit Hose Cuff
ZAMV 2 M of 100 mm Dust Extraction Hose
This compact wall mounted machine has a large 150 litre capacity and is ideal for serving extraction systems in smaller workshops. The waste is collected in reusable bag which is fitted to the exterior of a strong steel cage to retain its shape. The cyclonic neutral vane theory technology draws the waste into the drum with great force and directs it around the outside edge, keeping the filters cleaner and allowing the waste to fall to the bottom of
the bag.
The lid features a low-noise-output motor exhaust design and when the optional 2 1/2" diameter hose is fitted, the sound of the motor can be directed away from the machine, greatly reducing noise in the workshop.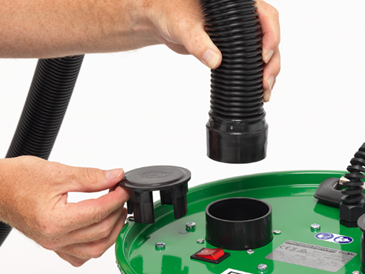 Low Noise Output
CamVac machines are probably the quietest high-pressure-low-volume (HPLV) dust extractors available. The motor exhaust and cover design effectively reduce noise during operation, with tests showing sound levels as low as 74 dB on a single motor model. When the optional 2 1/2" hose is fitted to the motor exhaust, this can be reduced to approximately 68 dB, making them the ideal option if neighbourhood noise is a concern.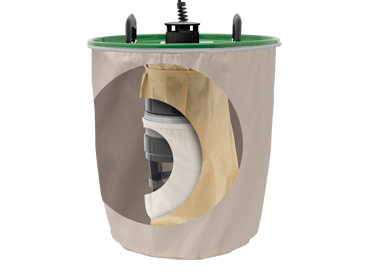 Three-Stage Filtration to 0.5 Microns
The drum filter and motor filters give three-stage filtration for fine dust, using two washable cloth filters and a paper filter system. The 0.5 micron filtration makes them ideal for use with fine dust and other materials hazardous to health.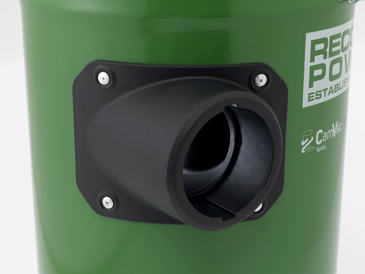 Cyclonic Inlet
All CamVac models feature a unique cyclonic inlet system, which draws the waste around the side of the drum and away from the filters and motors, increasing their lifespan.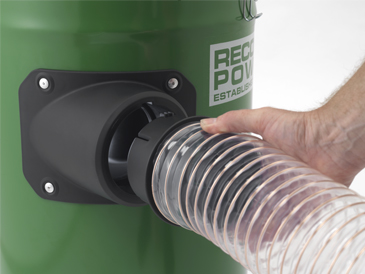 Bayonet Inlet Fitting
The machine inlet features a bayonet fitting, allowing for fast and easy connection of the extraction hose to the machine. Each machine is supplied with a corresponding bayonet hose fitting, which has a positive, secure and tight fit around the hose. Additional bayonet hose fittings are available.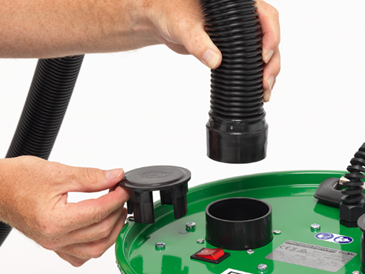 Low Noise Output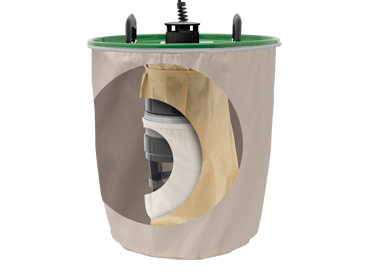 Three-Stage Filtration to 0.5 Microns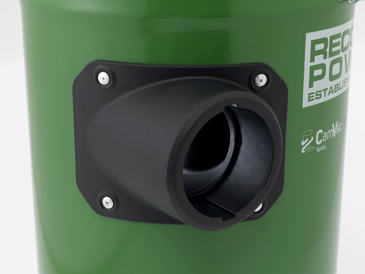 Cyclonic Inlet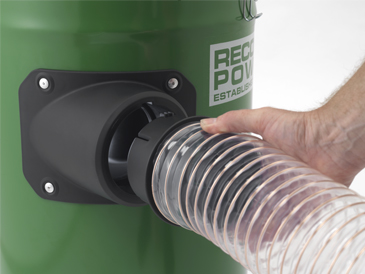 Bayonet Inlet Fitting
CamVac High-Filtration Dust Extractors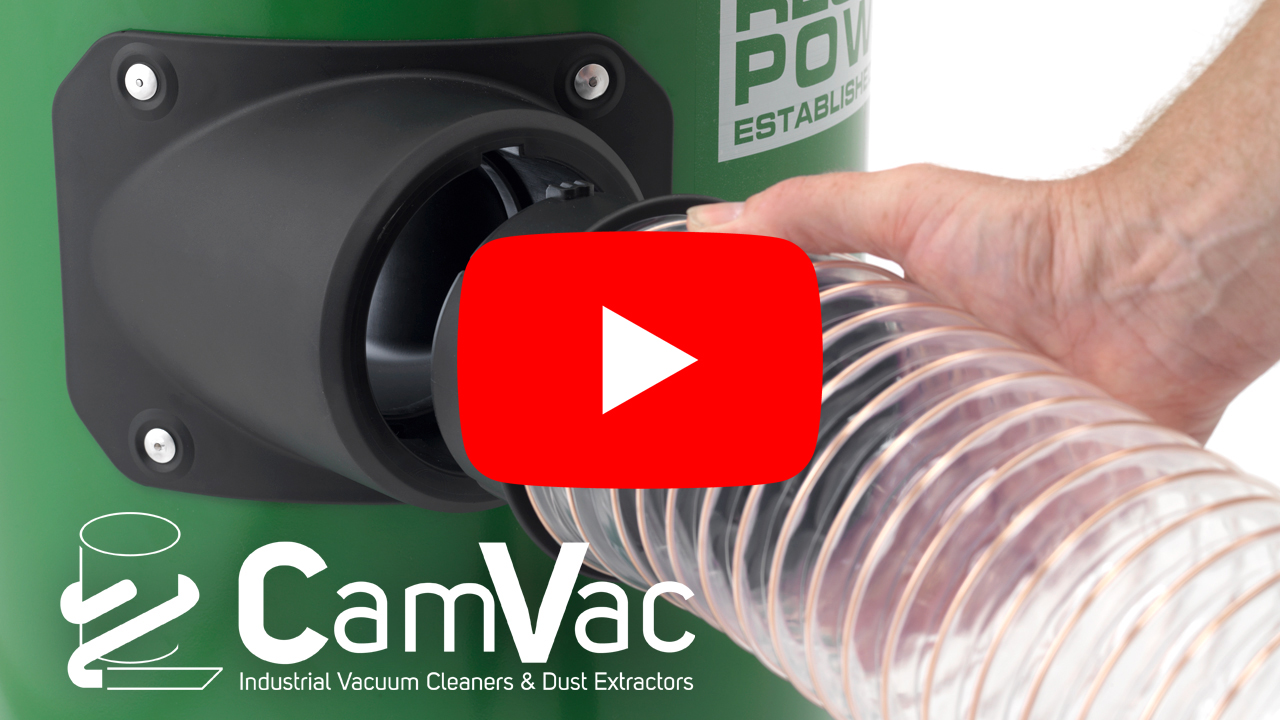 CamVac Dust Extractors - Now Featuring New, Improved Bayonet-Style Inlet Fittings
Floor Stand for Wall-Mount CamVac Extractor:

Wheel kit:

Single Motor:

Twin Motor:

Triple Motor:

Three Stage Filtration:

Low Noise Output:

Cyclonic Bayonet Inlet:

Cyclonic Steel Pipe Inlet:

Air Flow: 108 litres per second
Inlet Diameter: 4" (100 mm)
Size: W370 x D412 x H875 mm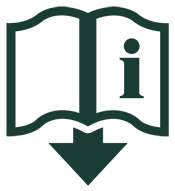 Record Power CamVac Manual 3.3
PDF reader required
Floor Stand for Wall-Mount CamVac Extractor

Wheel kit

Single Motor

Twin Motor

Triple Motor

Three Stage Filtration

Low Noise Output

Cyclonic Bayonet Inlet

Cyclonic Steel Pipe Inlet

Air Flow
108 litres per second
Inlet Diameter
4" (100 mm)
Size
W370 x D412 x H875 mm