WG200-PK/A RRP £186.99
SAVE
£17.00
ONLY
£169.99
Buy Same Time Offers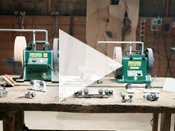 WG200-PK/A
8" Wet Stone Sharpening System Package Deal
(

33200

)
The WG200 wet stone sharpening machine offers fantastic performance and versatility in a compact and easy to use machine. Included with the machine are a range of essential tools and jigs, not only making this package fantastic value for money but also allowing accurate sharpening straight from the box. A full range of optional jigs and accessories are available which are compatible with the 12 mm bar system of the Record Power WG250 as well as many other brands of grinder.
The WG200 features smooth and responsive variable speed, a real bonus for a more compact machine. The torque can also be adjusted, enabling heavier grinding without fear of the stone or honing wheel slipping under pressure.
Adjustable Torque
Some machines rely purely on the weight of the motor to apply drive to the wheel. This can be insufficient for more demanding tasks. The WG200 has adjustable torque so you can easily apply the correct pressure for the job in hand.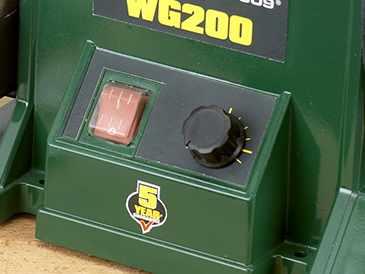 Adjustable Speeds from 150 ­ 250 rpm
As the stone wears, its diameter reduces and so in effect the speed of the wheel¹s rotation is increased. On most machines you cannot do anything about this, but with the WG200 you can lower the speed to compensate. In addition, when you want to remove material more quickly you can increase the speed of the stone.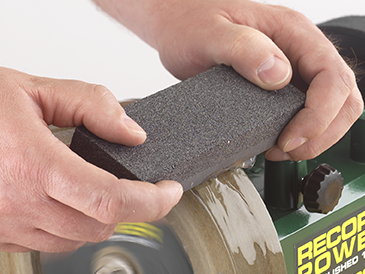 Control The Fineness of the Grind
Using the supplied stone grader, the stone can be dressed to provide either a coarse or fine grind.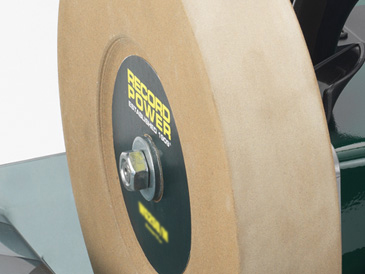 Left Hand Nut Thread
To ensure the grinding wheel is held securely with no danger of unwinding.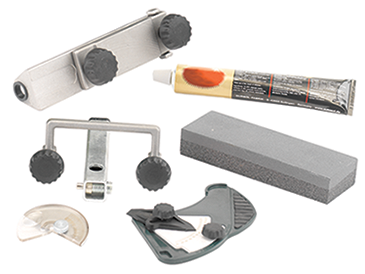 Accessories Included
• WG250/K Diamond Trueing Tool
• WG250/C Straight Edge Jig
• WG250/P Support Arm
• WG250/R Stone Grader
• WG250/S Honing Compound
• WG250/T Angle Setting Gauge
• WG250/U Angle Finder

Adjustable Torque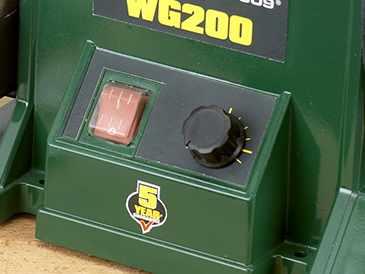 Adjustable Speeds from 150 ­ 250 rpm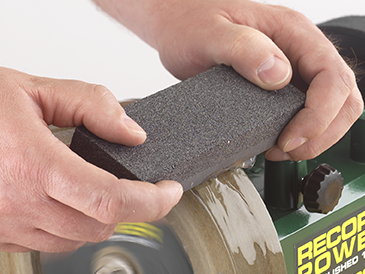 Control The Fineness of the Grind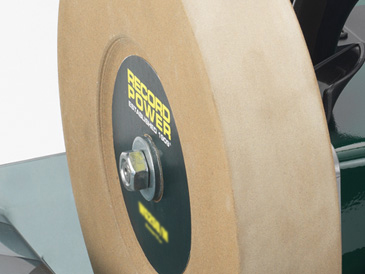 Left Hand Nut Thread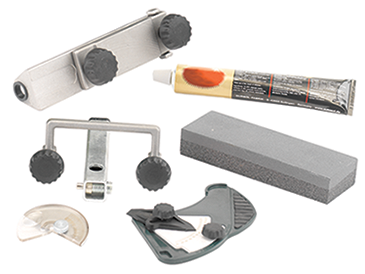 Accessories Included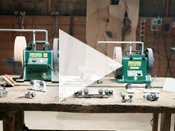 Record Power WG200 8" and WG250 10" Wet Stone Sharpening Systems
Support Arm Extension:

Profiled Leather Strop Wheel:

Machine Cover:

Variable Speed:

Adjustable Torque:

Leather Honing Wheel:

Drip Guard:

Integral Storage Tray:

Honing Wheel Size: 185 x 30 mm
Size: H225 x W420 x D230 mm
AWESOME
Brilliant results, video instructions spot on. All my tools are now sharper and better than new!
WG200-PK/A Wet stone grinder
Lovely well made tool, should last for years. Five year gaurantee gives great piece of mind. Cant wait to get more jigs to add to it.
Matador
An Excellent piece of equipment - - - however
The angle finder provided with the system leaves much to be desired. The scale is almost impossible to read and its accuracy is questionable. It is also fiddly to use. Apart fro...
Read Full Review
A-J-C
WG200 Manual 3.1
PDF reader required
Support Arm Extension

Profiled Leather Strop Wheel

Machine Cover

Variable Speed

Adjustable Torque

Leather Honing Wheel

Drip Guard

Integral Storage Tray

Honing Wheel Size
185 x 30 mm
Size
H225 x W420 x D230 mm